I recorded this album in December 2012 as a christmas gift to my mother. "Saudade do meu violão" means something like "Missing my guitar", cause my mom is always missing me playing after I left home. The whole project (recording, mixing and mastering) took only 15 days on my free time. For this reason, the quality it is not that great. If you listen carefully it's possible to notice some errors. But it's ok. My mother was very happy and thankful. The purpose was achieved. =D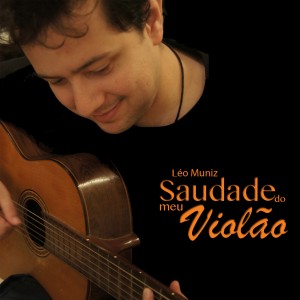 The album cover was made by my wife, Claudinha Périssé. She took the photo and made the logo (that I loved it).
"Saudade do meu violão" is made of Bossa-Nova songs, from the following brazilian artists: Chico Buarque, Vinícius de Moraes, Tom Jobim, Toquinho and Jacob do Bandolim. You can listen it below or, if you prefer, at my soundcloud page. I hope you enjoy it.
Saudade do Meu Violão
Léo Muniz
1. Samba de uma nota só – Tom Jobim e Newton Mendonça
2. Homenagem ao Malandro – Chico Buarque
3. Feijoada Completa – Chico Buarque
4. Chega de Saudade – Vinícius de Moraes e Tom Jobim
5. Carta ao Tom 74 – Toquinho e Vinícius de Moraes
6. Wave – Tom Jobim
7. A Rosa – Samba do Grande Amor – Deixe a Menina – Chico Buarque
8. Doce de Côco – Jacob do Bandolim
Album link: https://soundcloud.com/leomuniz/sets/saudades-do-meu-violao